Achtergrond informatie OZAN (For English scroll down)


Het tot stand brengen van een harmonieuze multi-culturele samenleving gaat niet vanzelf. Er zijn mensen voor nodig die bereid zijn om als voortrekkers te fungeren en om verantwoordelijkheid te dragen.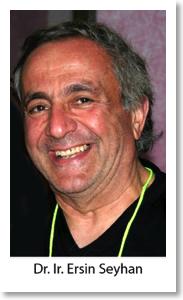 Zij moeten de dragers zijn, die van verre de bouwstenen aanleveren voor het fundament van de multi-culturele samenleving, waarop de komende generaties kunnen voortbouwen.

Op 2 januari 1984 is de Turks-folkloristische dans-theatergroep
OZAN
opgericht. De achterliggende gedachte is om Nederlandse en Turkse dansers kennis te laten nemen van elkaars cultuurpatronen, om zo tot een beter begrip voor elkaar te komen. Volksdansen is een van de beste manieren om te communiceren. Op deze manier kan culturele integratie op een plezierige en ontspannen wijze bevorderd worden.

De grote geografische, etnische en culturele diversiteit van Turkije heeft een schat aan gevarieerde volksdansen voortgebracht. OZAN brengt een bruisend Turks traditioneel volksdansprogramma in kleurrijke kleder-dracht. De dansen (waarvan enkele meer dan 900 jaar oud zijn) komen uit meer dan 40 regio's van Turkije. De groep wordt begeleid door eigen muzikanten die op authentieke volksmuziekinstrumenten spelen. Daarnaast heeft de groep Turkse en Nederlandse orkesten en professionele buikdanseressen.

Het programma dat OZAN brengt wordt gepresenteerd ter gelegenheid van verschillende activiteiten in binnen- en buitenland. Waaronder: (1) culturele festiviteiten, (2) eigen dans-theater produkties, (3) Turkije promotie programma's, en (4) bij feestelijke gelegenheden. Elk jaar maakt de groep een tournee door Nederland langs meer dan 50 plaatsen.

OZAN is een stichting die werkt op non-profit basis en die haar hele inkomen besteedt aan materiaal- en reiskosten.


De groep bestaat uit:

OZAN (Minstreel) Nederlandse en Turkse meisjes en jongens
OZAN ÇİÇEK (Bloemen van de Minstreel)Nederlandse meisjes

OZAN ANA (Moeder van de Minstreel) Nederlandse vrouwen

Background information OZAN

The creation of a harmonious multi cultural society is not a spontaneous process. There are individuals needed who are committed to function as leaders to carry responsibilities. They must set up the foundations of a multi cultural settlement where the future generations can build on.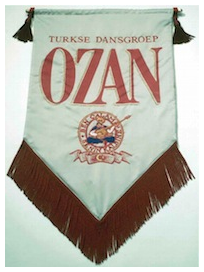 The basic philosophy and aim of
OZAN
is to unite the dancers in a common activity through which they can discuss and compare their cultural patterns, and eventually understand each other better. According to Ersin, cultural integration can be a reality and folk dancing is one of the best ways of achieving it.

In completely authentic folk costumes and embroideries, they present theater acts and folk dances (some of them more than 900 years old) from more than 40 regions in Turkey. The total length of the
OZAN
programme can be as long as 2.5 continuous hours if desired. Each sub-programme is a group of 10 to 15 minute dances from a certain region. Separately, available within the group are professional belly dancers, musicians and orchestras.




Several categories of programmes with different national and international themes are offered:
(1) Cultural festivities, (2) Theater presentations (3) Promotion programmes, and (4) happy occasions. Each year
OZAN
completes a tour to more than 50 localities in the Netherlands and Europe.

OZAN
is a non-profit foundation for which all income is used on materials and travel connected with performances. The demonstration honorarium varies from place to place.


The group consists of

OZAN
(Troubadour = minstreel) Dutch and Turkish men and women

OZAN ÇİÇEK
(Flowers of the troubadour) Dutch women


OZAN ANA
(Mother of the troubadour) Dutch and Turkish women